Latest Technology Trends That Will Impact Businesses in 2020
15/01/2020
Are you aligned with the frantic adoption rate of new digital technologies? Does your business have a strong foundation for SMAC (social, mobile, analytics, and cloud) to incorporate the latest tech trends that'll drive the post-digital wave? Or Do you have a digitally mature workforce to offer customized products and services that adapt to the constantly changing realities?
These are some crucial questions that businesses will need to ask themselves to assimilate the upcoming technologies of 2020.
In the post-digital world, digital realities, related products, and services will be hyper-personalized. And we will require a technology vision that's intensely customized and complementary to constantly changing on-demand experiences. After all, all these factors are crucial for the adoption of technology.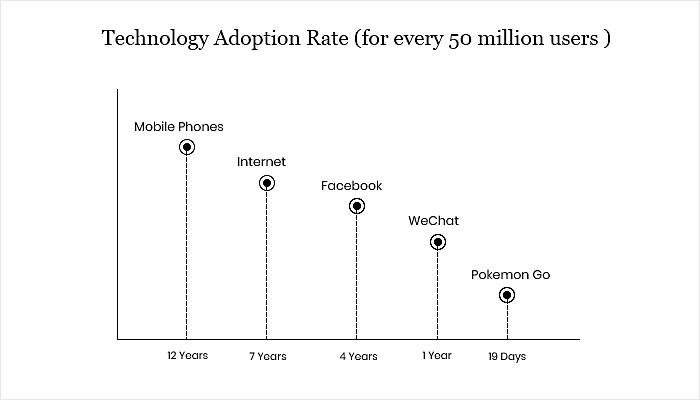 In a digital ecosystem that's transitioning from social, mobile, analytics and cloud (SMAC) to the distributed ledger, extended reality, and quantum computing, where does your business stand?
To understand such questions, we have come up with the latest technology trends that you can incorporate into your business.
NEW TECHNOLOGY TRENDS FOR 2020

If you are still wondering 'what's new technology? 'take a look at the newest tech trends that are hand-picked by our experts after doing extensive research:
5G Network
One of the most enigmatic new upcoming technology that businesses will need to adopt is the advent of 5G. According to Huawei, 5G could "support 1,000-fold gains in capacity, connections for at least 100 billion devices and a 10 Gb/s individual user experience of extremely low latency and response times."
But to take this speed to everyday mobile users, mobile network carriers will need to increase bandwidth and reduce network costs. Moreover, LTE adoption isn't waning and is estimated to reach $672 billion by the end of 2020.
Autonomous Driving
We all have heard about companies like Tesla, Alphabet, and Waymo, and the one thing that is common among them is their aim, which is to craft impeccable autonomous vehicles. The idea of a driverless car in itself generates a considerable amount of excitement.
Tesla chief Elon Musk already has the future design of autonomous vehicles and aims to go big in this industry.
Elon states, "From our standpoint, if you fast forward a year, maybe a year and three months, but next year for sure, we'll have over a million Robo-taxis on the road."
Functions like automated braking, lane-changing, and automation of the other in-car systems are on its way to being streamlined with the guidance of data capture and analytics.
"The idea that you can have a vehicle that can make complex decisions for full self-driving is just not plausible at this point."
There is still time for the modulation of the laws for autonomous driving by legislators, regulators, and authorities. Over that, significant tweaks will be required in the existing infrastructure, laws and social attitudes before we can embrace autonomous vehicles in the current technology trends.
The Empowered Edge
Today, the primary concern of any industry is the laggy approach that sometimes affects the overall management of the operations. Therefore, industries are focusing more on the efficiency and the response rate of computing, through which, data analysis is made. And here comes the role of edge computing.
Edge computing brings data storage and computation closer to the target, and hence, ameliorates the response times and save bandwidth. Also, it weighs more like the latest trend in technology because the industries are rapidly empowered with sophisticated and specialized compute resources, which is bound to reduce the latency.
As of now, edge computing is being fueled by the rapid evolution of the Internet of Things (IoT) and in the future, it will create an unstructured architecture over a set of distributed cloud services.
For instance, we have got drones that directly communicate with the enterprise IoT platform and conduct peer-to-peer exchanges. There is every increasing rise in the use of storage, sensor, computer, and advanced AI capabilities. One such example is the latest package delivery drone by Amazon.